Chapelfield Summer Circus
12-15 July
Chapelfield Gardens, Norwich
We hope you enjoyed the circus
If you're inspired to have go yourself there are classes for everyone at The Oak Circus Centre
Roll Up Roll Up!
the circus is coming to town
Chapelfield Summer Circus
4 days of spectacular contemporary circus in a big top tent
Thursday 12th to Sunday 15th July 2018
 Plus FREE outdoor workshops for all ages Saturday and Sunday
Tickets on sale from Saturday 21 April – World Circus Day!
Thursday
8pm Fauna
Friday
7pm The Hogwallops: Lost in Translation Circus
10pm Circus Cabaret Lates
Saturday
11am-2pm Free outdoor workshops
2.30pm The Hogwallops: Lost in Translation Circus
7pm Knee Deep: Casus Circus
10pm Circus Cabaret Lates
Sunday
11am-2.30pm Free outdoor workshops
3pm Oak Circus Community Cabaret
Ticket prices for all shows £12/£7.50 (Community Cabaret £5/£3)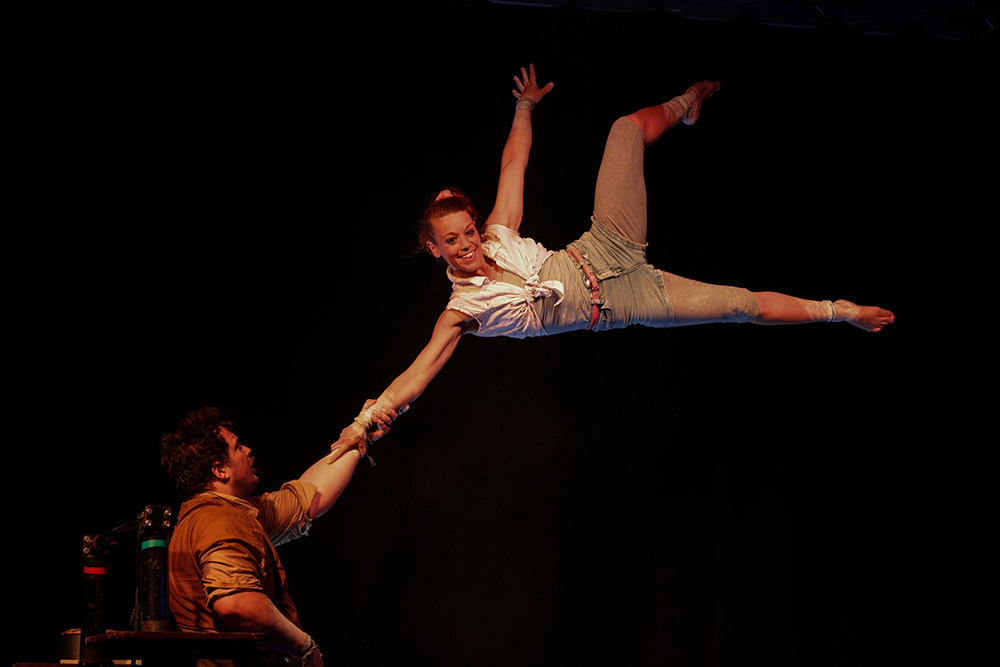 The Hogwallops: Lost in Translation
"Completely infectious … feels like just what circus should be"
A Younger Theatre ★★★★
A colourful, loud and funny story of the domestic adventures of a chaotic, dysfunctional family. Spectacular circus skills blend seamlessly with physical comedy, clowning, juggling and slapstick. Inspired by Roald Dahl's The Twits, this hilarious family's antics create a crazy home that resembles an adventure playground where riotous, anarchic fun prevails. Simple tasks like hanging out the washing become a tangle of swinging, flying bodies and fabric. Dinner-time becomes a teasing game of animalistic juggling and baking takes on dangerous proportions as the household furniture is precariously stacked and balanced on the roof.
7pm Friday 13 July and 2.30pm Saturday 14 July
Adult £12, Concession/child £7.50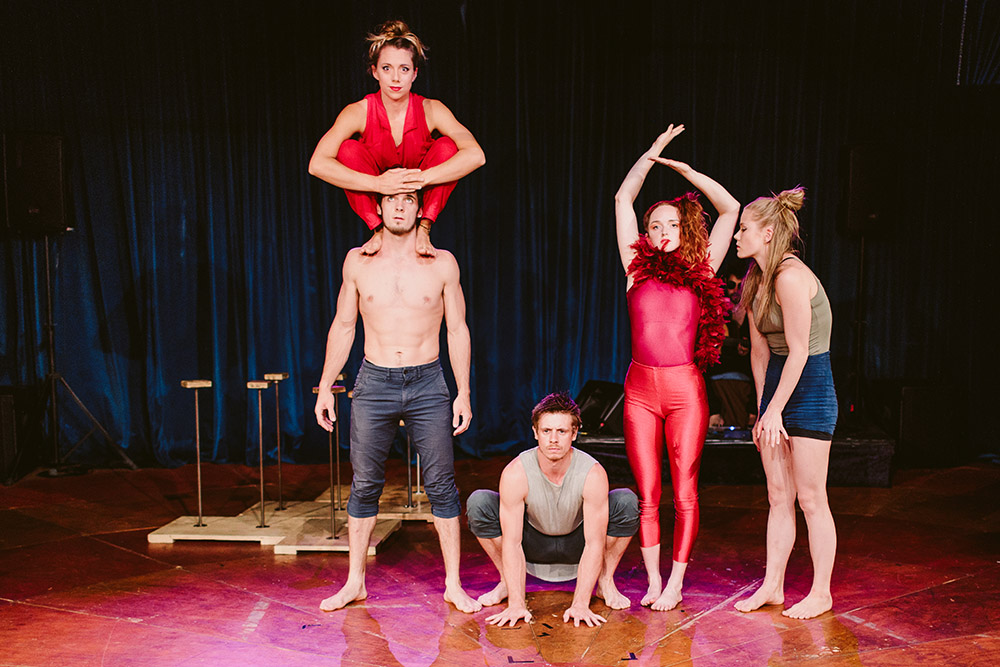 Fauna
"David Attenborough in tights and leotards … enormous fun"
Evening Standard ★★★★

A multi award-winning show that has wowed audiences around the world. The five performers balance, tumble, jump and fly, transforming their bodies into spiders, lemurs, tree frogs and birds of paradise. Set to live music, Fauna is a wholly immersive exploration into the similarities and contrasts between human movement and instinctual, primal animal behaviour. With high-level acrobatics that demonstrate the exquisite skill of each world-class performer, the members of Fauna each embody a distinctly individual animalistic character, utilising their specific traits in order to govern how they develop and interact with one another.
8pm Thursday 14 July
Adult £12, concession/child £7.50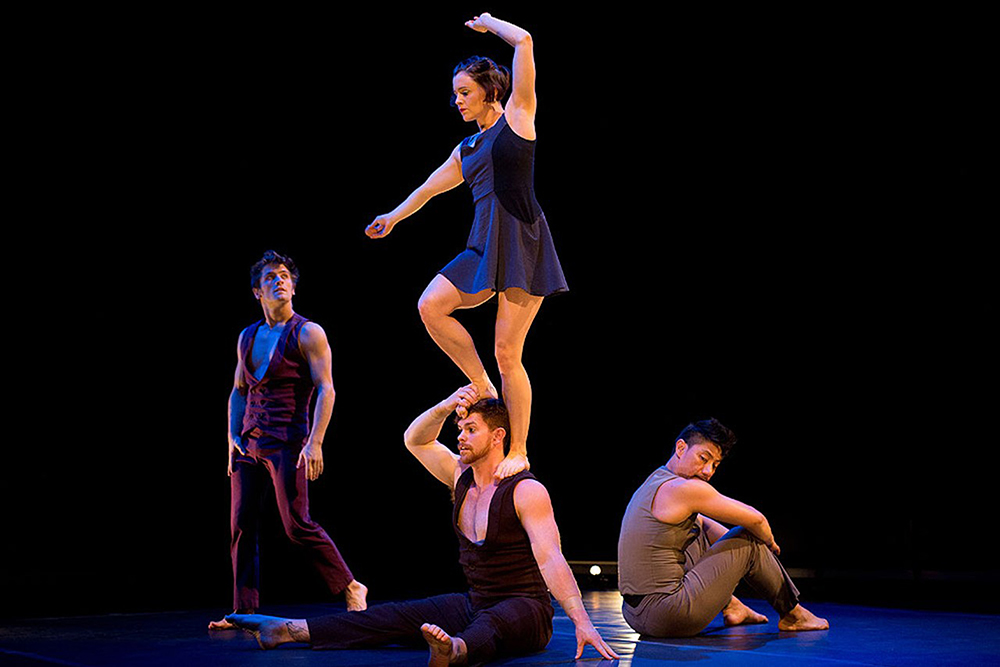 Knee Deep: Casus Circus
"Full of extraordinary skill. ..(an) awe-inspiring show"
The Guardian ★★★★★

Now in its 7th wildly successful year, the four performers of one of Australia's leading companies explore the boundaries of strength and fragility through contemporary circus and the physical and metaphorical, egg. Bodies are pushed and pulled, eggs are weighed and tested, unlikely bonds are forged and acts of intimacy cohabit space with thrilling physical feats. The Casus artists bring a raw emotional edge and honesty to the stage revealing the strong connection of the quartet throughout the journey. Like an egg, delicacy does not necessarily equate to fragility, although it is often a fine line that the performers must tread.
8pm Saturday 14 July
Adults £12, Concessions/child £7.50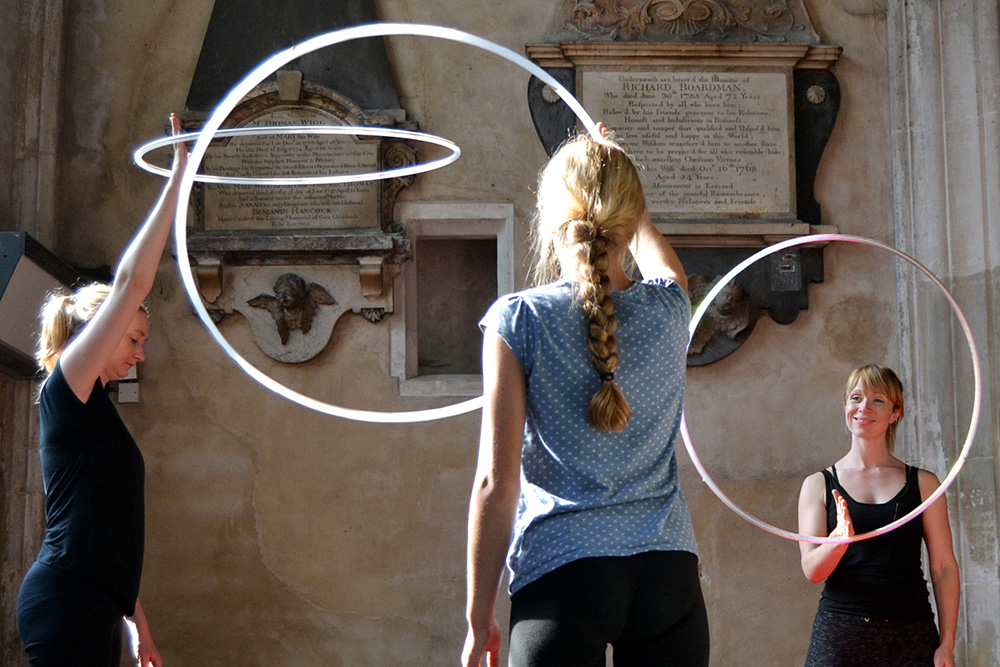 Outdoor Circus Fun
Drop-in workshops and circus skills instruction for all ages outside the big top circus tent.
Come along and have a go at a range of circus skills with support from professional performers and tutors. Who knows – you might discover your're a natural juggler or acrobat!
11am – 2pm Saturday 14 July and 11am – 2.30pm Sunday 15 July
Free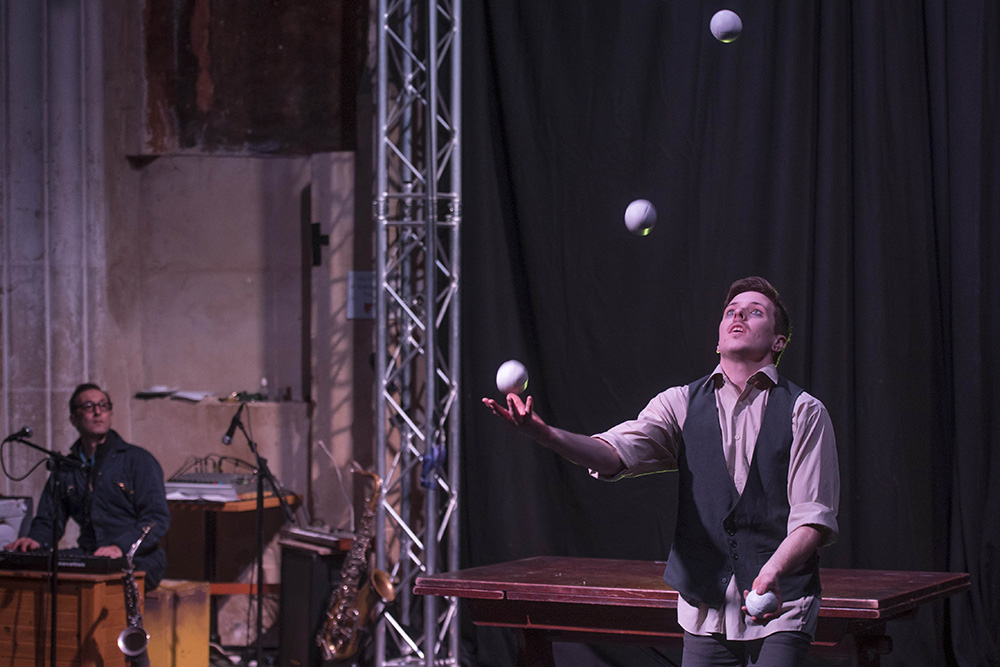 Oak Circus Community Cabaret
The Oak Circus Centre presents a cabaret show featuring their own students alongside circus professionals. It gives the students, who have varying levels of experience, a chance to perform in public and put together a routine to demonstrate their skills. Seeing students and professionals side by side is a great way to see, and appreciate, just how much hard work goes into creating a seamless and professional show. Performances will include aerial and acrobatic work as well as juggling and manipulation. This show is perfect family entertainment for a Sunday afternoon.
3pm Sunday 15 July
Adult £5, Concession/child £3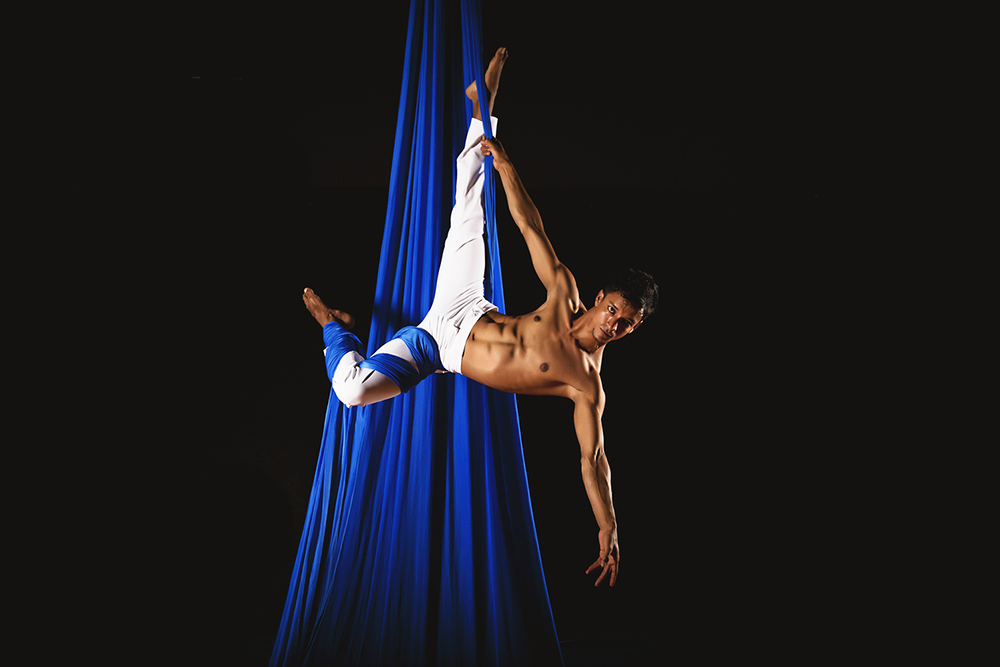 Circus Cabaret Lates 
A late night superior spectacular reflecting the more daring and risqué elements of the circus with special performances for a strictly adults only audience. Abigail Collins, well known for her multi-talented mix of comedy and circus, will be your naughty Master of Ceremonies. Jamie-Lee McNaughton specialises in tantalising aerial rope, silks, trapeze and aerial hoop skills, Annabel Carberry will demonstrate that it is possible to hula hoop with mutiple hoops while drinking a glass of wine and Vendetta Vain will be performing her infamous dance-trapeze act Butterface – sure to shock, thrill or surprise audiences. Columbian Diego F Martinez is at the cutting edge of aerial circus and will break out his chains in a rare demonstration of strength and skill, (Friday only) and Joseph Keely twists and whips through the air on aerial silks (Saturday only). Natasha Rushbrooke will demonstrate some of the most amazing and skilful elevated handstands you will ever see, Matt Green takes juggling to a new level and Nothing Else Matters is an extraordinary combination of romance and body strength  by husband and wife duo Forma Fortis. Fern Carpenter, Director of Norich's Central School of Dancing and Performing Arts, brings a tap dancing homage to past circus legends followed by a stylish silks act, enacting a passionate, tormented, love scene in the style of a Moulin Rouge cabaret. (Friday only). Pre-show entertainment ouside the big top comes from fiery fire eater Rebecca Jane.
10pm Friday 13 and Saturday 14 July
Adult £12, concession £7.50
Lord Mayor's Celebrations
Friday 6th to Sunday 8th July
Friday 5-10pm:  Elephant Parade and Funfair
Opening this year's Lord Mayor's Celebrations, five life-sized elephant puppets parade from Gaol Hill to the Circus Big Top in Chapelfield Gardens, leading to a thrilling world of side shows, funfair and live music as the circus comes to town
Saturday 5-7.30pm (approx): The Lord Mayor's Procession
A cacophony of all things circus, including five life sized elephant puppets, billowing flags, clowns, jugglers, dancers and acrobats, bands and community groups, all winding their way through the streets of Norwich.
Celebrating 250 Years of Circus
CIrcus250 is a year-long nationwide celebration of 250 years of circus.
In 1768 showman, entrepreneur and equestrian rider Philip Astley drew out a circle on an abandoned patch of land near London's Waterloo and filled it with astounding physical acts. This spectacle was the world's very first circus.
All over the UK and Ireland there are contemporary and traditional circuses, performances, exhibitions, concerts and events. Norwich (together with Great Yarmouth) is one of six designated 'Cities of Circus' that have a long and proud history of 'the greatest show on earth'.
A little bit of Norwich circus history
Barnum and Bailey's Circus came to Norwich in 1898 and 1899. They would announce their arrival with a parade through the town. This attracted huge crowds and was a great advertisment for the circus. This picture, which shows a troupe of elephants from Barnum's Circus benig paraded through Norwich in 1898, inspired this year's circus celebrations and the creation of five lifesize elephant puppets to lead the Lord Mayor's Parade.
With thanks to Norfolk Record Office for allowing use of this image.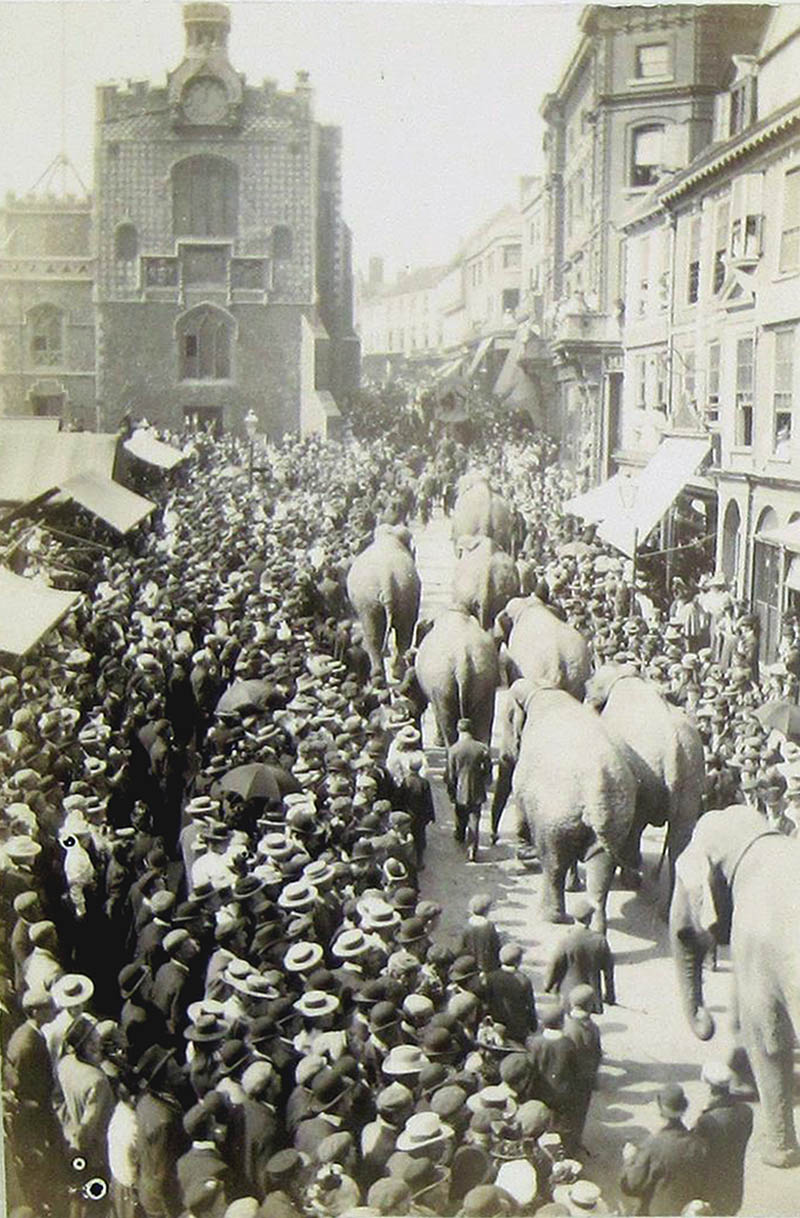 Pablo Fanque, born William Darby in Norwich in 1796, was one of the most successful circus performers and proprietors ever. Orphaned at an early age, he became an acrobat and performer – he was particularly famous for his oustanding equestrian skills. He became the first black circus owner and his story inspired the Beatles song, For the Benefit of Mr Kite, on the Sgt Pepper's Lonely Hearts Club Band album'.
Today there is a blue plaque commemorating him on the John Lewis building in Norwich.