THE LOST IN TRANSLATION CIRCUS
Lost in Translation are rapidly becoming established as one of the UK's leading contemporary circus companies. Our blend of high-level, dynamic circus skills within a character driven theatrical context and trademark warm humour has audiences howling in appreciation.
We create both indoor and outdoor ensemble-based performances, working with a tight-knit group of performers from Italy, France, Ireland and Australia. The results are accessible, multi-layered performance told through a highly physical language.
Frequently working with specially composed music, our shows feature a strong comic bent and the ability to amaze and move audience across cultural and language barriers. We have a deep desire to connect people, communities, and cultures, and actively work to engage and develop new audiences through the performance and by offering high quality outreach and educational activities in collaboration with our presenting partners.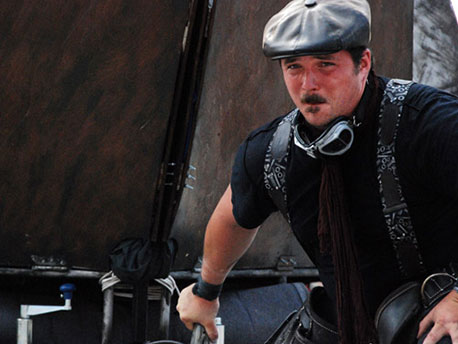 Company Director
Massimiliano grew up in Rome, where there was always a circus at the bottom of the street. He was inspired by the possibility of ordinary people doing extraordinary things. He began his career as a street performer, having his first show in Portugal at the age of 18. Wanting to pursue performing further he enrolled in Circo a Vapore, a theatre school based on the Le Coque method. However, his dream was still to be a circus performer so began his circus study the Carampa Circus School in Madrid for 2 years, then studied for 3 years at Circus Space in London, specialising in acrobalance. Since graduating Massi has performed with several companies throughout Europe, established his own production/performance company and worked very successfully as a free-lance performer and producer. Massi has also always been interested in teaching circus. In 2003 he began teaching juggling and acrobatics, and got a taste for sharing his skills, and since then he has continued to teach, create programs, and use circus to work with people of all ages. He worked with Let's Circus in Newcastle (UK) to help create an acrobatics program for the long term planning and creation of a circus school in New Castle, and worked long-term for Circus Space as a senior trainer for the youth program. Since 2013 Massi has been giving his full focus to managing and performing for LIT Circus.
Company Director
Inspired by watching one of their shows, Annabel began her circus career at the tender age of 12, performing all over the world with the famous Australian youth circus, The Flying Fruit Fly Circus. She then followed her other passion and studied Creative Arts, majoring in visual arts, at Melbourne Uni, but circus was now in her blood, so she went to The National Institute of Circus Arts (Melbourne) to brush up her skills. She has since worked as a circus performer and teacher, artist, photographer and general organiser of projects. Annabel has performed with many circus companies, and as a solo and duo performer in festivals, corporate events, cabarets and burlesque shows all over the world.  She has also taught circus from ages 4 to 65 and to people from a wide variety of backgrounds. Annabel enjoys most initiating creative projects and helping them come to fruition. She has helped to create shows and exhibitions in the past, and is currently co-creating/managing and performing in projects of LIT Circus with Massimiliano.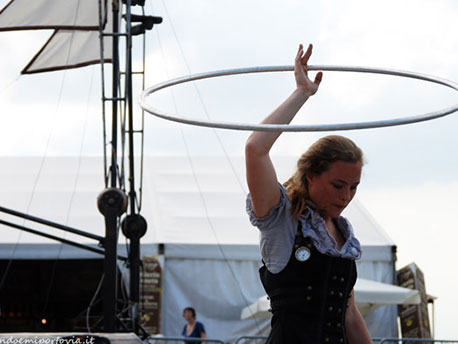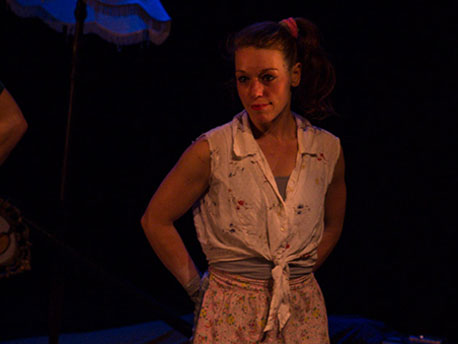 Core Artist
Roisin trained as a women's artistic gymnast for 17 years, competing in international events including the Youth Olympics (1997), and winning the Irish National Individual title for two years running (1999, 2000). She has completed a FETAC certificate in Dance, encompassing classical, contemporary, jazz and hip-hop styles, and musical theatre, and completed her degree at Circus Space in 2. She has also done a variety of stage and film work. She has performed in a variety of circus shows, cabarets, and big productions, most recently with the arena show "Batman", which toured Europe and the USA.
Core Artist
Eduardo was born in Naples and grew up in Salerno, Zurigo, Bruxelles and Rome, where, at the age of nineteen, he attended the School of Theatre. He then graduated from Circo a Vapore and holds a degree in Theatre History from University La Sapienza. During this time Eduardo studied Italian comedy, the comedy of art and the traditional italian masks. He was inspired by the Italian clowns 'Carlo Quartucci, Carla Tato' and Dan Demiuk, who continue to influence his work. Eduardo has mostly worked in theatre as an actor but has also written and directed plays. In 2004, Eduardo wrote a book on theatre practice. Eduardo has a passion for playing drums, which he studies with the griots family of Senegal Thiume.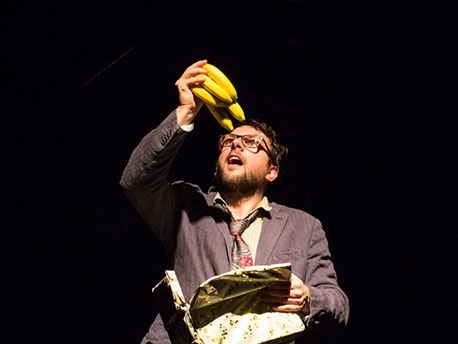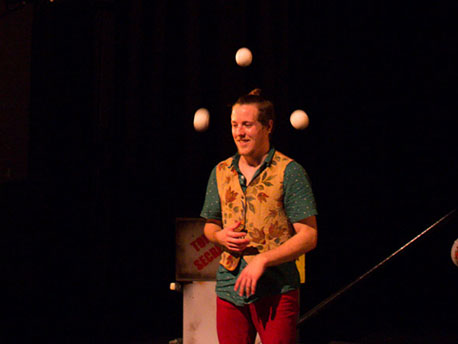 Core Artist
Having performed for over 8 years across the world with a wide variety of skills, Matthew is one of the most diverse and talented circus artists to come out of London. These performances include the main stage at The Royal Opera House as well as working alongside other big names such as Elton John and One Direction.Through his time at The National Centre for Circus Arts, where he graduated from with a BA Hons Degree in Circus Arts, he developed and honed his extensive variety of creative performance skills.The incorporation of dance and character/theatre work alongside his large repertoire of circus skills are key to his shows, ensuring an innovative and interesting performance that never fails to excite.
OTHER REGULAR COLLABORATORS
Peter Swaffer Reynolds: Composer, musician, MD creator of the music of La Ballade de Bergerac and the Hogwallops.
Flora Herberich: Flora is an essential collaborator of the Lost in Tranlsation Circus.
Christopher Dingli: Our Director for the succesful show the Hogwallops. Actor, director and creative.
Roger Eno: Composer, musician and MD creator of the music for the show Cirque Bordello.